Captain Buffbeard
Edit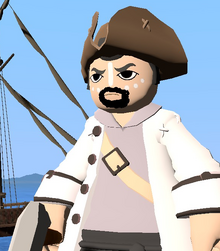 Captain Buffbeard
Pirate Leader
Rare
Pirate Boss
Primary: unknown
Captain Buffbeard is boss over the Pirate Captains. He issued the order to obtain the required materials to build the Pardon Pusher. He wears a special torso-armor that is lootable once he is defeated.
Known drops:
Edit
Ad blocker interference detected!
Wikia is a free-to-use site that makes money from advertising. We have a modified experience for viewers using ad blockers

Wikia is not accessible if you've made further modifications. Remove the custom ad blocker rule(s) and the page will load as expected.