Deer is the currently only visible animal in Salt.
Deer will run away if a player comes too close or if the deer gets hit by an arrow. Therefore, a ranged weapon is the best option for putting down the animal. Deer do not react to the presence of enemies.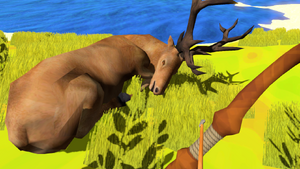 Brown Deer
Edit
HP: ??
Drops: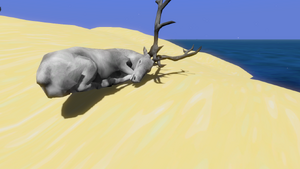 White Deer (Uncommon)
Edit
Mainly spawns during the day.
HP: ??
Drops: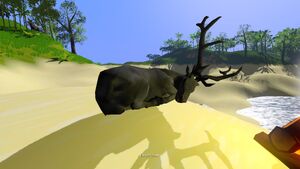 Black Deer (Rare)
Edit
Mainly spawns during the night and is a faster runner than most types of deer.
HP: ??
Drops: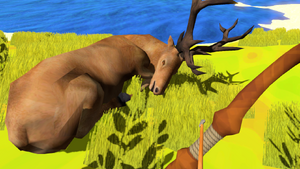 Scent-Lured Deer
Edit
Only spawns when Deer Scent is used. It's identical to the Brown Deer.
HP: 44
Drops:
Only spawns when Deer Scent is used.
HP: ??
Drops:
Sneaking with (CTRL) behind a deer will let you get in for a sneak attack. If you have a beefy weapon, you can take the deer's health down by at least 60% and finish It off with a bow.
If a deer runs away from you and out of range, stop shooting and follow it. Usually deer run straight, and will randomly stop at a certain point.
While sprinting, Running Boots give you enough speed to keep up with fleeing deer.
While walking, if wearing a full set of white deer armor, you are faster than a normal deer (untested with white deer and black deer)
Hunter's Arrow are very useful, downing the game in one shot almost every time.
Ad blocker interference detected!
Wikia is a free-to-use site that makes money from advertising. We have a modified experience for viewers using ad blockers

Wikia is not accessible if you've made further modifications. Remove the custom ad blocker rule(s) and the page will load as expected.