Not to be confused with Boss Pirate Captains:
Bobo, Rosebernard, Bulgeye, or Buffbeard
Pirate Captain
Edit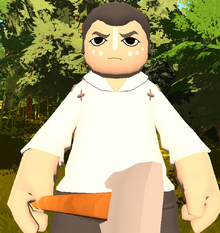 Pirate Captain
Unnamed Pirate Captain
Uncommon
Pirate
Primary: unknown
The Pirate Captain is more challenging than most of the regular pirates and alot less common to come across.
Captains do alot of damage and endure alot of hits themselves, which makes a Captain a real challenge. They appear on Pirate Islands and are usually close to the huts that exist there. Captains are never alone on Islands. They are very likely accompanied by regular pirates, Pirate Cartographers, The Captain's Navigator or Pirate Shipwrights.
Known drops:
Edit
Ad blocker interference detected!
Wikia is a free-to-use site that makes money from advertising. We have a modified experience for viewers using ad blockers

Wikia is not accessible if you've made further modifications. Remove the custom ad blocker rule(s) and the page will load as expected.