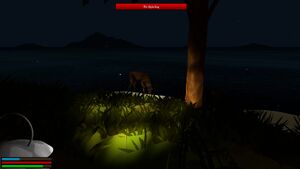 The Alpha Stag is an epic and rare beast. It is bigger than all other Deer in the game, endures a lot more damage and he is faster than other deer. It is, therefore, easier to lose him during a chase. He is easily mistaken for a regular brown deer if it's hard to spot the size-difference between the two.
The Alpha, contrary to its subjective relatives, do not make an appearance unless the player lures it out with Deer Scent. There is a bigger chance of making a Scent-Lured Deer appear instead of the Alpha. There is a book named Hunting The Alpha found inside Hunting Shacks that explains how to best find and hunt him down.
The Hunter's arrows and Ancient Shard arrows can be quite useful to hunt the Alpha Stag.
Killing the Alpha Stag for the first time lets you achieve the "Oh Deer" Steam achievement.