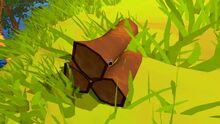 A pile of wood logs found near a campfire, made by Pirates.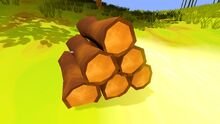 When interacted with, you will get Wood Logs and a slight chance of retrieving Hardwood Logs, making- no matter what material you pick up- a total of 3 items to retrieve. Wood piles currently exist in 2 sizes which is shown on the picture. When Wood Piles appear as 5, the player can recieve up to 5 items when collected.
These piles of wood exists only near pirate campfires and the piles can not be made by the player.